SPECIAL REPORT: Air Mobility: The Buzz in Paris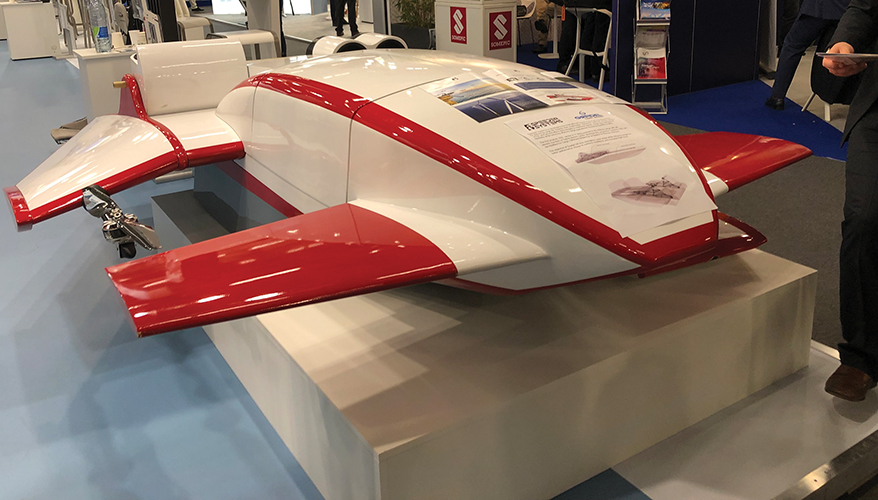 Speeder Systems' S30 electric vertical takeoff and landing vehicle on display at the Paris Air Show.
Laura Heckmann photo
This is part three of a three-part special report on eVTOL technology.
PARIS — After four years away, the Paris Air Show returned to Le Bourget Airport in June with its usual showcase of aerospace prowess from across the globe, but one corner of the sprawling exhibition space looked a little different.
Making its debut at the show was Paris Air Mobility, a three-day event featuring an entire suite dedicated to air mobility programming and a stage for demonstrations and discussions about the rapidly emerging sector of the aerospace industry.
Advanced air mobility is a collection of new and emerging technologies in aviation transportation, or "anything that's relatively non-conventionally powered," such as electric, hybrid electric or hydrogen, said Daniel Williams, senior manager of commercial fleet, flight and forecast data for Aviation Week, during a pre-show webinar.
Paris Air Mobility focused on electric vertical takeoff and landing, or eVTOL, vehicles, which were not confined to the stage.
Prototypes of all shapes and sizes lined the Paris exhibition halls — sometimes even hovering overhead. Companies from around the world displayed their eye-catching designs, mostly selling them as quiet, low-pollution transport methods that will revolutionize travel.
While bussing travelers high above congested traffic was a dominant topic, air taxis weren't the only direction companies were taking the electric vehicles.
Blue Spirit Aero's Dragonfly, a four-seat, zero-emission, hydrogen-fueled electric vertical takeoff and landing system, could be used as a training vehicle for flight schools, said a company official.
The France-based company uses what is called distributed electric propulsion, with 12 electric propulsion units mounted across two wings, integrating its own hydrogen electric propulsion chain.
"As you can imagine, hydrogen is extremely powerful," Harsh Singhal, an aerodynamics engineer for Blue Spirit Aero, said in an interview on the sidelines of the air show. "[We've] found the right solution to extract the power, that energy, from hydrogen … and make it go 700 kilometers."
Down the aisle, a Netherlands-based company demonstrated a prototype aimed at maritime logistics.
The Speeder Systems S30 model, a brightly painted red and white prototype about the size of a small rowboat, was designed to deliver cargo long distances over water, Erdem Kazakli, the company's managing director and co-founder, said in an interview.
The design uses a principle called "ground effect," in which the vehicle flies low — skimming the water — trapping air between the wing and the surface creating more pressure, "and pressure means more lift," Kazakli said.
More efficient lift means the vehicle can deliver cargo 40 percent farther than a small aircraft carrying the same cargo without the ground effect, he said. The aircraft's use cases include ship inspections, surveillance, resupplying ships, medical delivery and search and rescue operations.
"In the offshore environment, you have two options" to deliver something, Kazakli said: boat or helicopter. The S30's goal is to replace helicopters. The vehicle can land on water, does not require a helipad and eliminates the need for expensive infrastructure, he added.
One Japanese company advertised making reservations and checking in for its SkyDrive air taxi from a smartphone. SkyDrive plans to debut its three-seat eVTOL aircraft in 2025, with a goal of supporting autonomous piloting by 2031, company executives stated at a press briefing at the air show.
As numerous and lofty as the visions for the electric vehicles, so were the questions grounding them. Briefings at the Paris Air Mobility suite included discussions about noise levels, funding and certification, and just how likely these concepts are to take off — and when.
"The reality is, as clever as these machines are, they're still going to have to jump through some of the aviation regulation hoops to get there," Williams said.
Andrea Cornell, associate partner at McKinsey and Company, identified six areas to keep an eye on for the remainder of the year.
First — funding. She called 2021 a "banner year," with numbers slipping in 2022, but on pace for growth in 2023. "A good first half of this year, but to be seen how the rest of the year shakes out … and who actually gets the funding to survive," she said during a briefing at the air show.
Other areas to watch include supply chain and industrialization, what design elements will be sacrificed for timelines, infrastructure needs, certification uncertainties and what she called value proposition — or convenience factor for the end user.
Time will tell how many flashy prototypes make it outside the exhibition halls. A March report from the International Forum for Aviation Research titled "Scientific Assessment for Urban Air Mobility" estimated the first round of aircraft could see entry into service as early as next year — but not many.
"The [original equipment manufacturers] and regulators are advertising potential certification and commercial operations as early as 2024, but only a handful of [urban air mobility] aircraft could potentially achieve this … goal," the report stated. ND
— Additional reporting by Stew Magnuson

Part 1: Electric Engines Propelling Military into New Age of Aviation
Part 2: Army Quietly Exploring Electric Aircraft

Topics: Air Power
to www.nationaldefensemagazine.org

---
Follow us on Facebook : https://web.facebook.com/wacnews
To receive the latest news on your phone using the Telegram application, click here: https://t.me/+KMdLTc0qS6ZkMGI0
Send us a message by Whatsapp : Whatsapp +44 7476844931
---