Zing bails have once again come under the spotlight after South African wicketkeeper Quinton de Kock was handed a massive reprieve during Saturday's second ODI against Australia in Bloemfontein.
In the fourth over of South Africa's run chase at Mangaung Oval, de Kock defended a length delivery from Tasmanian seamer Nathan Ellis that trickled back onto his stumps.
However, despite the ball striking the stumps with noticeable force, the bails were unmoved — de Kock threw his arms to his head in disbelief, as did Ellis, before both players forced a wry smile.
It comes after Australia's Tanveer Sangha bowled Proteas opener Reeza Hendricks around his legs during the third T20 in Durban, only for the unwavering Zing bails to deny the young spinner a crucial wicket.
Watch Australia's Tour of South Africa on Kayo Sports. Every Match Live & On-Demand. Join Kayo now and start streaming instantly >
Zing bails were shrouded in controversy during the 2019 World Cup in England, when they failed to dislodge several times throughout the 50-over tournament.
Coincidentally, de Kock was one the fortuitous batters from four years ago, with England spinner Adil Rashid producing a wrong-un that struck the left-hander's off stump without toppling the bails.
There have also been multiple incidents in the Big Bash League over the past few years that have raised eyebrows.
According to the ICC, the Zing bails are lighter than the traditional wooden bails used in windy conditions.
"This issue isn't all about the weight of the bails, as a complicated interdependent range of factors come into play," David Ligertwood, director of Zing, said in 2019.
"The bails, stumps, stump grooves depth and shape, pitch conditions and stump cam all affect it.
"Testing shows the bail's weight isn't necessarily the most significant factor."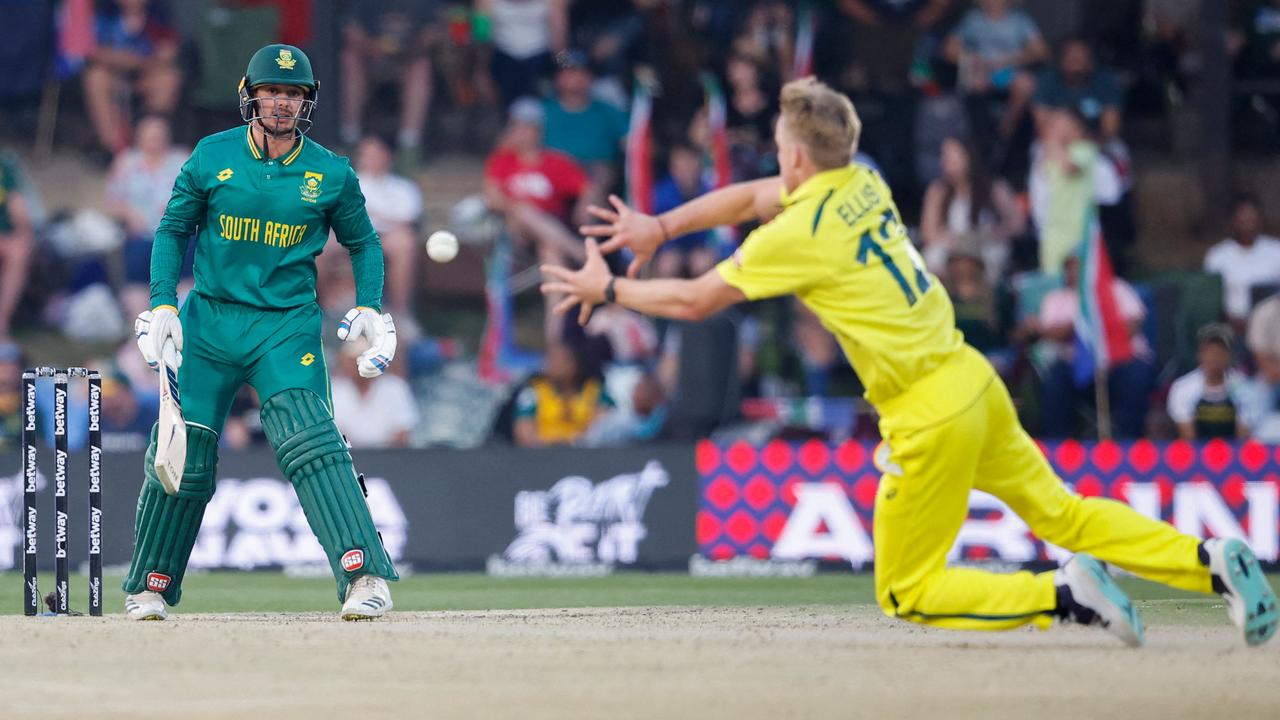 READ MORE
MAGNIFICENT MARNUS: Who's under threat as Aussies face World Cup dilemma
'NOT IDEAL': Asia Cup controversy erupts over eleventh-hour rule change
Australia ultimately won the second ODI by 123 runs, with Ellis holding onto a superb return catch to remove de Kock in the tenth over for 45 (30).
The third ODI between South Africa and Australia gets underway at Potchefstroom's Senwes Park on Tuesday, with the first ball scheduled for 9pm AEST.
---
Follow us on Facebook : https://web.facebook.com/wacnews
To receive the latest news on your phone using the Telegram application, click here: https://t.me/+KMdLTc0qS6ZkMGI0
Send us a message by Whatsapp : Whatsapp +44 7476844931
---