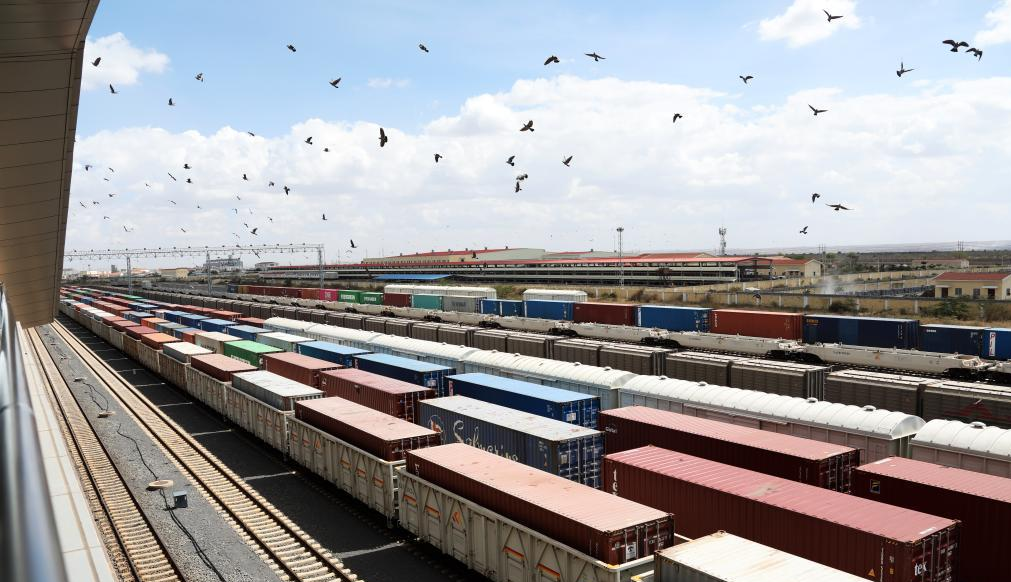 Imbalances in Western funding, and not BRI, major cause of debt troubles
A new study has disclosed that "China"s sovereign financing in Africa" is mostly development-oriented and covers infrastructure, and has been bringing solid benefits and prosperity to many African countries.
A report on the study was released at an event in Beijing on Thursday. At the event, Ivan Zyuulu, Zambia's ambassador to China, said the study is "crucial", and his country hopes to continue to cooperate with China to further improve bilateral relations.
"A study on the effectiveness of China's sovereign financing in Africa" — by the Institute of New Structural Economics at Peking University — is backed by ample case studies and data-based analyses.
The study stated China's financing in Africa is concentrated in low-income and lower-middle-income African countries, accounting for over 90 percent of the total funding and 87 percent of the total number of projects.
Targets are the most sluggish areas of development, which tackle bottlenecks in African countries, the report said, adding China's Africa policy is in line with the United Nations Sustainable Development Goals and the World Bank's twin goals.
"China as an emerging creditor has the potential to promote information sharing, post-evaluation and policy communication with other creditors. China has made substantial contributions to the economic, social and sustainable development of African nations," the report said.
According to the study, more than 67 percent of China's financing in Africa goes to infrastructure such as railways, roads, ICT (information and communications technology), water supply, ports and energy sectors. China's financing in Africa also calls for green energy and supports the digital construction of Africa.
Research findings from the report team revealed significant and positive impacts of Chinese loans.
For instance, the contribution of Chinese loans to African growth ranges from 0.176 percent to 0.3 percent. That indicates that an increase of 1 percent in loans would contribute to at least a 0.176 percent increase in growth.
The corresponding figures for infrastructure improvement are from 0.027 percent to 0.084 percent, and those for export earnings range from 0.244 percent to 0.33 percent.
Similarly, the coefficient for FDI inflows ranges from 0.293 percent to 0.533 percent, while a 1 percent increase in Chinese loans leads to an increase of 0.118 percent to 0.212 percent in school enrollment rates, and an increase of 0.143 percent to 0.167 percent in industrial job creation.
During an exclusive interview with China Daily, Justin Yifu Lin, dean of the Institute of New Structural Economics, said the major difference between China's development cooperation with African countries and that of the Western countries is that China focuses on ways to tackle the bottlenecks in structural transformation, technological innovation and industrial operations in African countries.
" (Africa-Western) development cooperation mostly is in areas of education, health, gender, equality, transparency and improvement of governance. They also have good intentions, but they won't enhance the ability of (African countries) to have dynamic technological innovation that is necessary for job creation," Lin said.
Lin also rebutted some Western views that the Belt and Road Initiative causes debt problems in Africa, saying that while African countries do have debt issues, most of their debt is related to Western countries, not China.
Besides, the slowdown in the global economy reduces exports from African countries and their ability to earn foreign exchange and repay debt, while monetary tightening in the United States and other advanced countries causes interest rate hikes, forcing African countries to pay more on their borrowings. These are the main reasons behind the debt crisis in Africa, Lin said.
Citing data from the International Debt Statistics released by the World Bank in 2022, the Peking University study said that as of 2021, the largest source of external debt for African sovereign financing is multilateral institutions, accounting for 33 percent. Next, international market-supported commercial bonds constitute 30 percent of the debt. On average, China holds only 9.8 percent of the debt of African countries, the report said.
---
Follow us on Facebook : https://web.facebook.com/wacnews
To receive the latest news on your phone using the Telegram application, click here: https://t.me/+KMdLTc0qS6ZkMGI0
Send us a message by Whatsapp : Whatsapp +44 7476844931
---