A round-up of openings, closings, and other news about West Hartford businesses. 
Business Buzz is sponsored by NBT Bank, and we are very thankful for their support!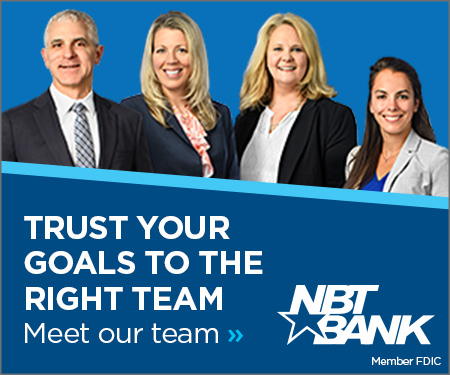 By Ronni Newton
Happy Thanksgiving week!
The holiday season seemed to come up quickly – probably because there has not only been so much going on in town but I have also been traveling more than usual. I am personally so excited for this Thanksgiving, which will include our adorable grandson (I know I'm biased, but he really is cute) who is practicing being able to sit strapped into a high chair – so even though he doesn't eat solid food yet, he will be able to join the entire extended family at the table.
Millie is also ready for Thanksgiving – and while she still has not quite destroyed "Santa Hedgie" she is hoping that next month there will be at least one new hedgehog in her stocking.
Please note that as usual for Thanksgiving week, we will only be sending out two newsletters – on Monday and Wednesday. While the news doesn't take a holiday, the We-Ha.com team is trying to take Thursday and Friday off for some much-needed family time (Ted and I will be going to visit his mom on Nantucket), and we hope our readers will also be relaxing and/or holiday shopping. Of course we will be responding if there is breaking news.
Please also note that if you have Thursday or Friday trash and recycling collection, it will be delayed a day this week.
Saturday was the annual Hall vs. Conard football game (which I missed for the first time in probably 14 or 15 years because we were at the UConn vs. Sacred Heart game), but Paul Palmer was there and you can find his story and photos here.
Ted and I spent Saturday night teaming up to report (Ted) and photograph (me) the Hall vs. Stamford High CIAC Class LL boys soccer championship, and skipped our usual Saturday night dinner at a local restaurant. In fact, we didn't end up eating any dinner until we finally made some pasta after 11 p.m. when we finished our story about the game – which Hall won! (Extra exciting for me to have Hall beat Stamford High, which was the archival of Westhill, where I went to high school! Also, I was very glad for Ted pitching in to help. We first met working on our college newspaper and some of our early "dates" were tag-teaming on stories.)
We did have a great dinner earlier in the week at the famed Miller's Pub in Chicago. Ted was speaking at a conference last Monday and I tagged along and enjoyed the quick trip to one of my favorite cities, and was back in time for Tuesday night's Town Council meeting. Also below are some food photos from a lunch meeting on Thursday with several colleagues at Boqueria. We split several of the tapas plates and everything was delicious!
If you're looking for news about West Hartford in print please note that many stories from We-Ha.com, as well as other local news, is published in the twice-monthly issues of the West Hartford Press.
If you have information to share about local businesses, please provide details in the comments or email Ronni Newton at [email protected].
**************************************************
Here's this week's Buzz:
We reported a few weeks ago that Phở 135, which opened in August 2018 at 135 South Main Street, planned to close for good as of Oct. 30, and I have the details about the new restaurant that will be opening! The space will be home to Wabi Sabi, a Japanese bar/restaurant that is owned by West Hartford resident Gao Cai and his partner, Andy Moser. Cai, who has prior restaurant experience, told me that he hopes to open in two or three months. The menu is not set yet, but he said the restaurant will feature sukiyaki (skewered meat), hand rolls, donburi (Japanese rice bowls), and appetizers and desserts. They will also have a full bar, he said, with cocktails, beer, and saki. Permit records filed with the town indicate that the restaurant will seat 36, with an additional 15 seats at the bar and nine seats in a section with movable walls that can become a private dining area. I will definitely follow up and provide updates as the opening nears.
I touched base with Willie Fair last week regarding the opening of the Soul Bowls at 1128 New Britain Avenue in the Elmwood Plaza shopping center. He said the renovations to the former CT Organic Pasta space are going well, and plans are to open the first or second week of January. Soul Bowls already has a location in Hartford and serves "new American soul food." Fair's partners are Chef Hughann Thomas (who like Fair is a Conard graduate), and Malik Golden. Much more to come as the opening nears!
Speaking of bowls … after last week's column mentioned Nautical Bowls opening in the former Overflow space at Bishops Corner West, Michael Smith, owner of the West Hartford franchise reached out to me. "For 23 years I had the good fortune to work at Trinity College serving as their Women's Soccer Coach," he said in an email. "A wonderful and rewarding experience that was filled with so many blessings but my wife and I are now really excited to embark on this next chapter of our lives." Smith said Nautical Bowls – which features fresh and healthy plant-based bowls with açaí and other superfoods according to their website – will also have a large catering and special events presence, with plans to open a kiosk at the XL Center, at Trinity Health Stadium for all Hartford Athletic home games, and a limited presence ad  Dunkin Park for some of the Hartford Yard Goats home games. The permitting process is underway, and Smith said he hopes to be able to open by March.
Saturday, Nov. 25 is Small Business Saturday, and it's a great reminder of the critical role our local small businesses have in our lives and their importance to the economy. "We invite everyone to join us in shopping small this holiday season," Catherine Marx, the Small Business Association (SBA) Connecticut District director, said in an email. "Small businesses are the heartbeat of our communities and supporting them is very important for our overall economy. Every purchase made from a small business is not just a transaction; it's an investment in the livelihoods of your friends and neighbors." Small Business Saturday was founded by American Express in 2010 and has been officially cosponsored by the SBA since 2011. It "is a day dedicated to supporting the diverse range of local small businesses that create jobs, help boost the economy, and enhance neighborhoods nationwide. According to American Express, the projected total reported spending among U.S. consumers who shopped at independent retailers and restaurants on Small Business Saturday last year hit a record high with an estimated $17.9 billion1, and 72 percent of shoppers strongly agree they will continue to shop small throughout the holiday season because of the impact it has on their local community."
I've gotten a number of questions from readers about Cinépolis, which has been closed on and off over the past several months. I went to check it out in person on Thursday, and while staff was preparing for several late afternoon showings, they referred me to the corporate office for a statement about what has been going on. I reached out to spokesperson Annelise Holyoak, the senior national director of marketing and loyalty, and this is the statement she provided: "We did have to close a few days this week due to an alarm malfunction. We're actively working to get it resolved and hope to open regular in time for Thanksgiving. We have no plans to close the location. We appreciate our guests patience while we work with outside vendors to resolve the situation. We value West Hartford very much and plan to serve the community for many years to come."
There was a grand opening on Saturday, but on Thursday I decided to check and see if buybuy Baby was having a soft opening since I wasn't going to be around on Saturday – and they had just opened a few hours earlier. Ashley Stanford is the manager of the West Hartford store, and was previously the manager when the store was under previous ownership. The West Hartford store (in The Corbin Collection) was the only one of the 11 stores now owned by Dream On Me that was ready to open on Thursday, she said. They have the same products – and more, she said, particularly an extensive selection of carseats, strollers, and nursery items.
Victus Coffee will be relocating from their space inside Cookshop Plus at 58 LaSalle Road to 777 Main Street in downtown Hartford in January 2024, where they will be taking over the space that has been occupied by G Cafe Bakery.

"Our partnership with Cookshop Plus has spanned many years and we couldn't be more thankful for the support they've shown us along the way. We're excited to bring great coffee and so much more to downtown Hartford very soon! With ample seating, a large bar, and so much more, we know you'll love this new space just as much as we do," Victus Coffee said in a post on their Facebook page. "I wish them all the success," Cookshop Plus owner Jimmy Hines told me. He said it has been a great collaboration over the past few years, and he is open to having another coffee brand operate the cafe after Victus departs at the end of the year. If that doesn't materialize, he said, "We will most likely absorb it back as retail space because we're busting at the seams." It's good to hear they are doing well, and as usual I can't walk into that store without buying something!

Hartford Baking Company, which opened its first location in West Hartford, has announced plans to open a new 3,000 square foot location in South Windsor. This will be the fourth retail location, and will be opening in the spring of 2024 at 150 Sullivan Ave., South Windsor. The new location will have the "same vibe, menu, and bread selection" as the locations at 965 Farmington Ave. in West Hartford Center and the cafes in Glastonbury and Farmington, according to a news release,"plus an expanded menu and some other exciting new offerings." Company President Scott Kluger said of the decision to open in South Windsor: "We've had our eye on this market for a while and were thrilled to learn about the development project at 150 Sullivan Ave. When we found out we had an opportunity to be the anchor tenant AND a drive-through, we had to say yes. This new location will be our biggest with not only a drive through, but also a 'market concept': prepared foods, more sandwiches on the menu, and a much larger bakery showcase and much more variety."
Congratulations to River Bend Bookshop, which celebrated its ribbon cutting with the Chamber of Commerce and town officials at 161 Park Road on Tuesday morning – roughly a year after owner Meghan Hayden opened the second location of the independent bookshop. River Bend has been a great addition to the Park Road neighborhood, and to the town!
Congratulations to West Hartford-based PR firm Express Strategies, which earned an UpCity  Best of Connecticut Award for 2023. Express Strategies, which was founded in 2012 by resident and Managing Principal Bernard Kavaler, who is a former journalist, provides an acute understanding of the public relations implications of policy decisions made by organizations, working directly with each client to craft and implement short- and long-term communications strategies that effectively reach the right audience with the right message. "We are proud to have been selected among the Best in Connecticut, and we thank our clients for all of the support they've shown our business," Kavaler said.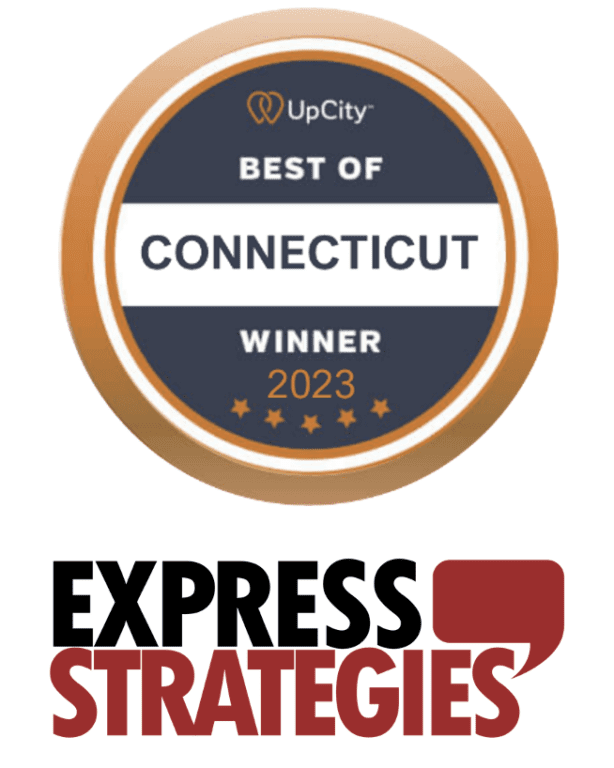 The Jewish Community Foundation of Greater Hartford in West Hartford has announced the appointment of four community leaders to its Board of Directors. Congratulations and welcome to I. Bradley Hoffman, co-chairman of the Hoffman Auto Group; Joshua R. Feldman, a West Hartford resident and partner and Connecticut Family Law attorney at Ruel, Ruel, Burns, Feldman & Britt Attorneys at Law in Hartford; Jerry Rosenstock, who has a career spanning over 35 years at the firm of Ernst & Young (and is the husband of renowned jewelry designer Elise Rosenstock of ElyseRyan Jewelry); and Jill Dulitsky, a former financial analyst and a passionate philanthropist and entrepreneur who owns and operates a used car dealership and auto finance company.
A reader commented on last week's column that Boston Market at 1240 Farmington Avenue has been closed and a sign in the window indicates a suspension related to Connecticut taxes. I have tried to call – no answer – and did personally verify that the location is indeed closed and there is a sign indicating that their license to operate has been suspended pursuant to state statute. I don't have any of the details about the closing of the West Hartford location, but multiple news reports do indicate that Boston Market has faced legal troubles in several states regarding unpaid wages. Google says they will open on Tuesday at noon, but I'm not so sure that's accurate.
The outdoor dining corrals have been removed for the season from the Center and Blue Back Square. Outdoor dining may be very different next year depending on what happens with the work on the West Hartford Center Infrastructure Master Plan, which is still in development status. Much more to come on that.
Remember, if you have any business news to share, add it in the comments section below or email Ronni Newton at [email protected].
Like what you see here? Click here to subscribe to We-Ha's newsletter so you'll always be in the know about what's happening in West Hartford! Click the blue button below to become a supporter of We-Ha.com and our efforts to continue producing quality journalism.
to we-ha.com

---
Follow us on Facebook : https://web.facebook.com/wacnews
To receive the latest news on your phone using the Telegram application, click here: https://t.me/+KMdLTc0qS6ZkMGI0
Send us a message by Whatsapp : Whatsapp +44 7476844931
---